Description
Reverberations From Prague is inspired and based on the theater play #Hypocrisy by Imogen Stirling, for which the original music was composed by Ross Somerville.
Heyme was a stand-in musician for the Prague Fringe Festival 2019 shows for #Hypocrisy, when the original musician could not make it. He was emailed the script, a youtube video of an earlier show, and had some general guidelines on where to be silent, and where to build tension. He checked what Ross Somerville had done, and then prepared some of his own riffs.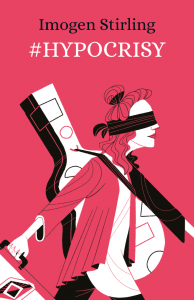 Heyme and Imogen met for the first time on the afternoon of the 1st show on May 24, and played 4 nights in a row after that, on sold-out shows. The riffs and improvisations became set after that, and were recorded afterwards for this cd. The Guitar riffs are as were played live, Trumpet and Saxophone were added later for this recording. All instruments, composition, mix and artwork are done by Heyme.
We recommend getting the book together with this CD, and read the script out loud while playing the soundtrack.