Description
A full solo album, released on Vinyl and CD, recorded mostly in my attic, mostly on Sundays. Most days I just started playing and recording and improvised on top of that, weaving rhythm and melodies into tapestries of sound. The majority of the tracks on this release were created in just a few hours. This way of playing and recording goes back to the days of Kiss My Jazz, and later IH8 Camera, with both improvising on the spot was a large part of how these bands operated.
All instruments on all songs are played by myself. I used a loop station to create a basic track, over which I play other tracks. Drums and Piano come from an old Yamaha PSR-230 keyboard.
You can further enjoy the sounds of my Yamaha 12-string guitar, my Harley Benton 6 string guitar with a great whammy bar, a Rockson electric guitar, copy of a Gibson SG, just like the one Angus is playing..
There is my Tenor Sax wailing through and over these, and a really nice Hohner Alt Sax. And also a trumpet. I am all Voices too. Mostly I double-tracked the Voices and Wind instruments for harmonies.
All songs are written by myself, except Mutsi-Mutsi, which is written by Tuormari Nurmio (Finland). My Finnish friends Finn the Fin and Tanja Elomaa taught me the words 25 years ago, and somehow I never forgot them, recorded a version with which I was pretty happy, and asked Mr. Nurmio if I could release, which he said was ok, for which I give my heartfelt thanks.
Burn in Hell is my 4-track version of our Kiss My Jazz song, released on the 1997 single 'Stained Glass', by Heaven Hotel.
Uwe Teichert of Elektropolis has done a great job in mastering the songs.
Huge thanks go out to Andrew Bennett of the Jezus Factory Record label for his relentless promotion of music, without whom I would not have been able to release and distribute this.
Further thanks go out to Rudy Trouvé, a great source of inspiration, creator and friend, for the artwork on the cover.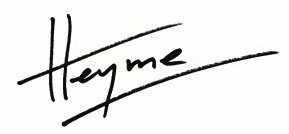 Pre-listen on heyme.bandcamp.com
Follow and comment on fb/noisesfromtheattic
Read the interview with Heyme with Zap!Bang!
Monolith Cocktail completely nail the new Heyme album 'Noise From The Attic' Out on LP + CD
"snozzled oozing Roxy Music and Hansa Studio Bowie saxophone, forlorn northern European melodies and chugging guitar. Within those perimeters the moody attic troubadour of alternative lo fi brooding pop does a Sparks, on 'Klara', evokes 70s era Floyd, on the mentally fatiguing 'Paranoid', adopts Blixa Bargeld's tonsils and trans-European malady, on 'Where She Goes (She Goes)', and channels Eno's 'Another Green World', on the far from discordant row, 'Noisz'. Fans of the solo work of the former dEUS guitar triumvirate of Rudy Trouve, Mauro Pawlowski and Craig Ward will find a fourth such inspired maverick to add to the list."
"Mash up of Post Rock and Jazz (with a bit of early Eno in the mix). A work of genius" – Thee Psychedelicatessen
"Will appeal to those looking for the new, the different, the non-conformist." – Dancing About Architecture