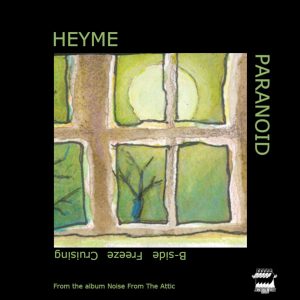 Proud to announce the brand new Single and Video to 'Paranoid' from Heyme's album 'Songs From The Attic' which contains 2 exclusive non-album B sides 'Freeze' and 'Cruising' that you can hear at our bandcamp and from tomorrow will be available at all the usual digital and streaming outlets…. We really would like you to watch the wonderful video made by Samantha Mayne.
Please do share it around if you can..
Heyme also has a live appearance at Cafe Pavlac in Prague on 23rd March. 
Read the interview with Heyme with Zap!Bang!
Monolith Cocktail completely nail the new Heyme album 'Noise From The Attic' Out on LP + CD
"snozzled oozing Roxy Music and Hansa Studio Bowie saxophone, forlorn northern European melodies and chugging guitar. Within those perimeters the moody attic troubadour of alternative lo fi brooding pop does a Sparks, on 'Klara', evokes 70s era Floyd, on the mentally fatiguing 'Paranoid', adopts Blixa Bargeld's tonsils and trans-European malady, on 'Where She Goes (She Goes)', and channels Eno's 'Another Green World', on the far from discordant row, 'Noisz'. Fans of the solo work of the former dEUS guitar triumvirate of Rudy Trouve, Mauro Pawlowski and Craig Ward will find a fourth such inspired maverick to add to the list."
"Mash up of Post Rock and Jazz (with a bit of early Eno in the mix). A work of genius" – Thee Psychedelicatessen
"Will appeal to those looking for the new, the different, the non-conformist." – Dancing About Architecture