Description
OUT OF STOCK. Message jezusfactory@yahoo.co.uk if you are desperate!
Flat Earth Society & Mauro Pawlowski
Homage to Mr Zappa – Don't worry, Frank is dead anyway.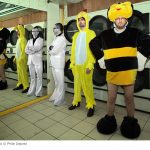 To attempt to describe the music of Flat earth Society is an impossible (and pointless) task. But it is clear that the old Frank has made quite an impression on the young Peter Vermeersch. And what is even more true: they have a lot of common musical and other heroes and sources. Under the title 'Terms of Embarrassment', Flat Earth Society, featuring the heathen guitar gods Pierre Vervloesem and Mauro Pawlowski, pays homage to Mr Zappa. Don't expect covers, but a concert that will make the famous moustache gleam once again in the grave. An evening mainly of fresh material, wonderfully embarrassing moments, new pieces like 'Hail Gail!', 'Me Standard, You Poor' and 'Who's wrong, who's right and who's left behind', over-long guitar solos and tight, exciting collective passages. And for anyone who, given the context, might get into trouble because of this: don't worry, Frank is dead anyway.
| | | |
| --- | --- | --- |
| 1 | Me Standard, You Poor | 7:53 |
| 2 | Random Riffs | 3:46 |
| 3 | Take Your Clothes Off When You Dance | 4:10 |
| 4 | Abracadabra | 5:38 |
| 5 | Solitude | 4:13 |
| 6 | Ahmad & Juan | 11:59 |
| 7 | City Of Tiny Lites | 9:52 |