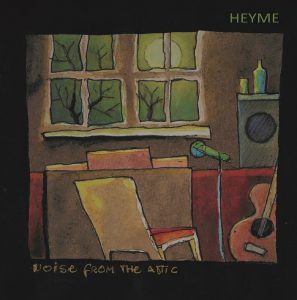 NOISE FROM THE ATTIC
Debut solo album by Heyme Langbroek (Kiss My Jazz, Lionell Horrowitz & His Combo, IH8 Camera,…)
To be released as vinyl & CD exclusively on Jezus Factory Records – JF055 –  January 2019
Heyme is originally from Holland, spent 16 years in Belgium playing in different bands, and moved to Poland 6 years ago.
This is the debut solo album by Heyme, recorded mostly on Heyme's attic, mostly on Sundays.
All instruments on all songs are played by Heyme. He uses a loop station to create a basic track, over which other tracks are played, weaving rhythm and melodies into tapestries of sound, recording while improvising on top of these.
This way of playing and recording goes back to the days of Kiss My Jazz, and later IH8 Camera, with both
improvising on the spot was a large part of how these bands operated.
All songs are written and composed by Heyme, except Mutsi-Mutsi, which is written by Tuormari Nurmio (Finland),
and Burn in Hell is his 4-track version of the Kiss My Jazz song, released on the 1997 single 'Stained Glass', by Heaven Hotel.  .
Uwe Teichert of Elektropolis has done the mastering of the songs on this release.
Cover artwork was made by Rudy Trouvé.
 Listen:
Follow: FB/noisesfromtheattic